A Monster Calls
Release date: January 6, 2017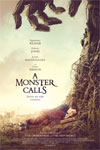 Due to his mother's (Felicity Jones) worsening illness, and constant bullying by classmates, a 12-year-old boy named Connor O'Malley (Lewis MacDougall) is plagued by nightmares. One night, a voice calls to him and Connor discovers an unlikely ally in a tree monster (voiced by Liam Neeson) that appears at his bedroom window.
The tree tell him stories that draw Connor into a fantastical world of monsters and fairy tales, and takes him on a journey of courage, truth, and faith.
Based on the 2011 award-winning children's fantasy novel of the same name by Patrick Ness, which was honored with the Carnegie Medal and the Kate Greenaway Medal in 2012.
Additional details
Genre: Drama
Runtime: 108 min
Director: Juan Antonio Bayona
Studio: Universal Pictures
Producers: Jonathan King, Belén Atienza, Mitch Horwits
Screenplay: Patrick Ness
Cast: Lewis MacDougall,Felicity Jones,Toby Kebbell,Liam Neeson,Sigourney Weaver